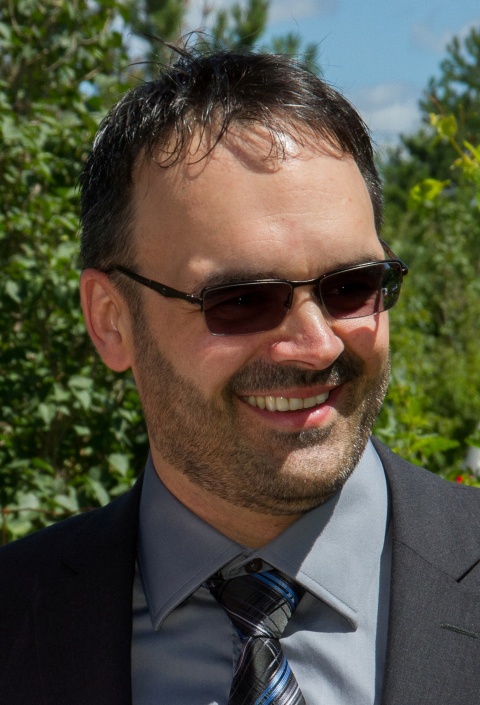 denis@galtmassage.ca
cell - 519-241-1942
I graduated from the Canadian College of Massage & Hydrotherapy (CCMH) in 2014 and am a member of the Registered Massage Therapists' Association of Ontario. I have volunteered massage treatment at such places as Trinity Village Care Facility, peopleCare AR Goudie Kitchener, Queen Street Yoga, Multiple Sclerosis Society, Hospice Wellington, Canadian Brain Institute, Sunnyside Wellness Centre and the 'Ride for Cancer' Fundraising Event at the University of Waterloo.
I was born and raised in Cambridge (Galt), Ont. and am fluently bilingual in both French and English. I used to be 'hard' on my body from plenty of physical work and various competitive sports. Consequently, I suffered from a variety of injuries and experienced a great deal of pain and reduced function. After experiencing the benefits of manual treatment from numerous practitioners over the years, I gained valuable insight into how my body functions and how it feels and reacts in dysfunction. I was so impressed and appreciative of those that facilitated my recoveries that I decided I would rather be helping people to heal. To that end, after more than 25 years in non-health related fields, I chose to return to school to become a Registered Massage Therapist.
I offer NISA massage, Swedish massage, deep tissue massage, trigger point therapy, remedial exercise and Reiki treatments.
In my spare time I enjoy being in the great outdoors; be it on the water, on hiking or cycling trails or camping. Back in early 1995 I started my involvement as a Big Brother volunteer with what is now known as "Big Brothers Big Sisters of Waterloo Region". I anticipate remaining committed to this organization for years to come. I also volunteer and take part in an organization called "The ManKind Project".
linda@galtmassage.ca
cell - 519-594-1717
I received my Bachelor of Science degree from the University of Guelph in 1992, where I majored in Human Biology with a minor in Psychology.
After 5 years of working in an unrelated field, I realized that I needed to get back to science and, more importantly, get into something that would allow me to help people. That's what drew me to massage. I received my diploma in Massage Therapy from Kikkawa College, school of massage, in 1999.
I have been working full-time in a clinic setting since that time with a focus on treating long-term postural and pain conditions. I use a very detailed technique called NISA which allows me to access the old, deep tight spots or scar tissue that have been holding people back from functioning optimally.
I have taught the NISA technique to both graduates and undergrads of the massage therapy program since 2003.
I am a former Peer Assessor and a Subject Matter Expert for the College of Massage Therapists of Ontario (CMTO) which is the governing body of my profession.
I am a CMTO approved tutor for those RMTs in need of remediation or upgrading their skills and knowledge in order to return to practice.
In my spare time I enjoy the outdoors (hiking, biking, gardening, canoeing, etc.).
I also volunteer with Cambridge City Green, which is a group that organizes our community clean-up and public tree planting events.
I have a beautiful dog who I like to spend time with as well.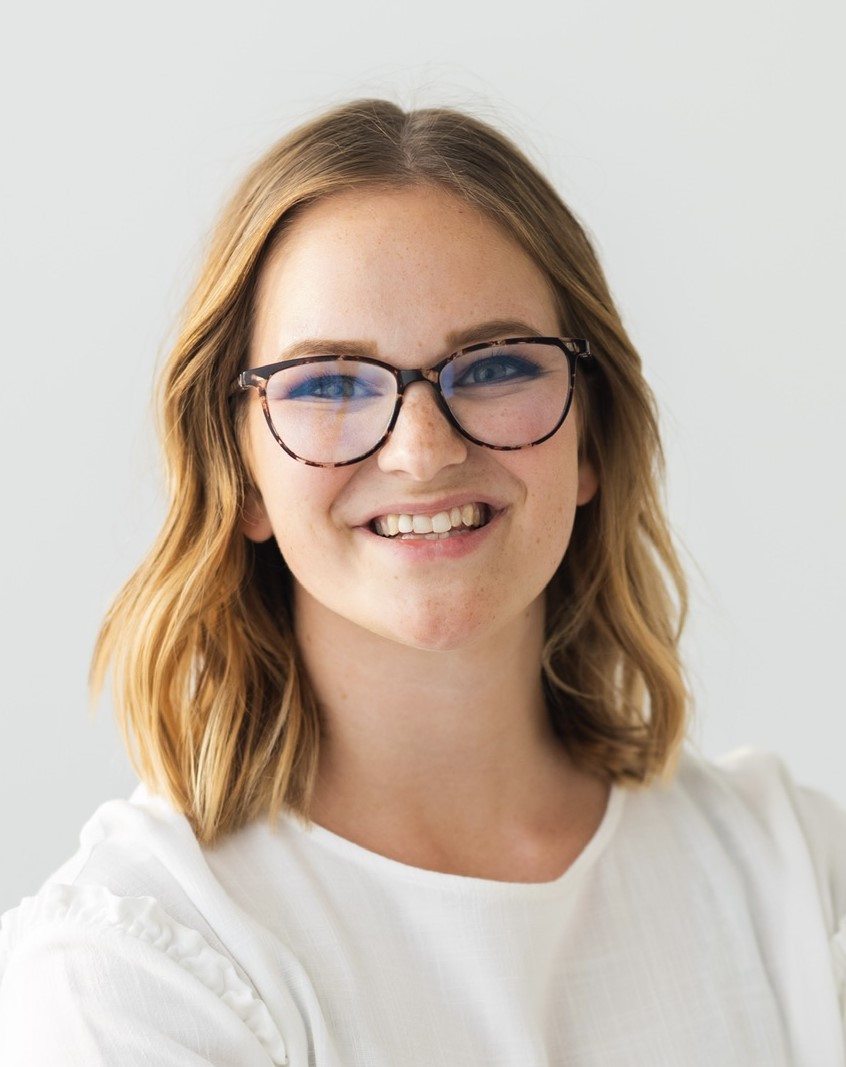 heidi@galtmassage.ca
cell - 905-975-5878
As an Osteopathic Manual Practitioner, I completed my education in 2020 and have been practicing professionally since. My career started at a small practice in Cambridge, Ontario but I seized an opportunity in Whitehorse, Yukon which is where I was practicing prior to returning to Cambridge, in September 2021.
After experiencing injuries and traumas which led to several concussions, I experienced the benefit of osteopathy first-hand and am now helping others along their health journeys, seeking to provide those services for others. Like many others in my profession, I believe in a whole-body approach to healthcare. Together, my patients and I create an individualized plan that works with their schedules and their lives.
When I'm not treating, I enjoy being active through hiking, functional training, and water sports. On an average day, you can usually find me reading at a local coffee shop or outdoors on the trail. I look forward to meeting you!
This is how you access our clinic: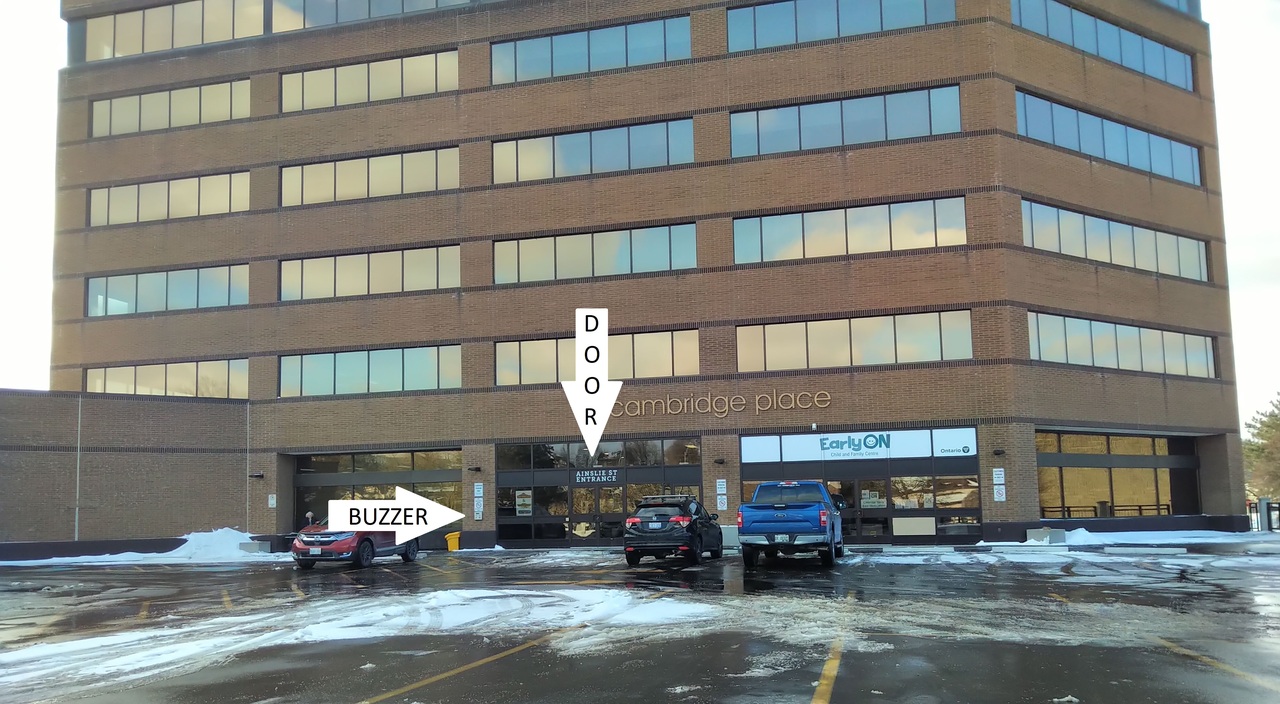 This is the Ainslie Street entrance to the building.
You need to drive up a short ramp to access this parking lot.
This is the door to use after 5pm as you will need to use the buzzer for access (before 5pm, just walk in).
The buzzer is located on the brick wall to the left of the doors.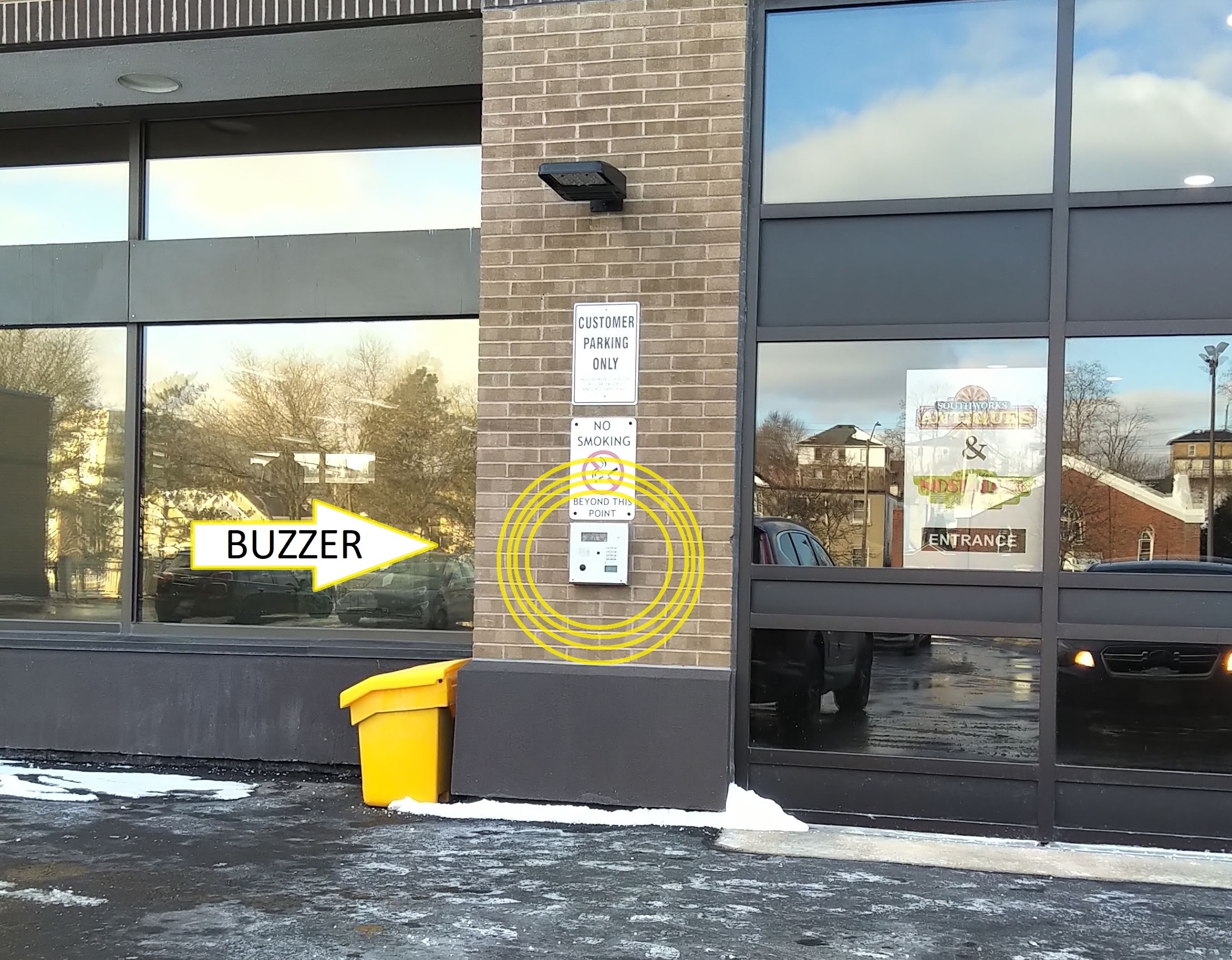 This is the buzzer that you need to use after 5pm for us to remotely unlock the doors and elevator for you.
Please select the correct practitioner from the options on the buzzer as the buzz comes through to our individual cell phones.
If you are seeing Linda, enter "1110" on the keypad or scroll through the options on the buzzer until you find "G Massage L" and select that one.
If you are seeing Denis, enter "1111" on the keypad or scroll through the options on the buzzer until you find "G Massage D" and select that one.
If you are seeing Heidi, enter "1115" on the keypad, or scroll through the options on the buzzer until you find "G Massage H" and select that one.

Once you get to our suite, please walk in (no need to knock) and enjoy the fish in the aquarium
in the waiting area until we come to greet you.
Our Cambridge Location
We are located within the Cambridge Place Office Building,
73 Water St., suite 212,
Cambridge, Ontario
The building is in the downtown Galt area of Cambridge, overlooking the Grand River, and close to many great shops and restaurants.
Wheelchair accessible.
Plenty of free parking on the Ainslie St. side of the building.
Who Are Regulated Health Professionals?
In order to become regulated by the Ontario government, practitioners must graduate from a recognized college in their chosen field, and then pass written and clinical provincial examinations. This allows them to use the designation "Registered Massage Therapist" (RMT) or "Massage Therapist" (MT) (these two terms mean the same thing). These are restricted titles which means that only those who have passed the provincial examinations may use them.
RMTs are governed by the Regulated Health Professions Act (the same act that governs doctors, nurses, physiotherapists, chiropractors, etc.) which exists to ensure the protection of the public from harm.
All regulated health professionals must regularly acquire continuing education to ensure they remain up-to-date, and must also participate in the quality assurance program which ensures high professional standards and quality client care.
For more info on massage therapists, go to the website of the College of Massage Therapists of Ontario (the governing body)
www.CMTO.com
Call or text:

Linda 519-594-1717
Denis 519-241-1942
Heidi 905-975-5878

Galt Massage Therapy
73 Water St. N., suite 212

Cambridge, ON, N1R 7L6